This page is the brochure for your selected program. You can view the provided information for this program on this page and click on the available buttons for additional options.
CCS300: United States: Footprints of Our Ancestors -- The Anishinaabe: A Five Day Immersion into the Life-Way of the Anishinaabeg
Calumet, Michigan, United States;
(Carroll Courses Program)
Minimum GPA:
2.5
Language of Instruction:
English
Language Requirements:
None
Program Advisor:
Lezlie Weber
Program Type:
Faculty-Led Programs
Total CCE Cost:
1000.00
Deposit Amount:
250.00
CCS 300: Cross Cultural Experience (two credits)
Footprints of Our Ancestors
A Five Day Immersion into the Life-Way of the Anishinaabeg
May 9th- 15th, 2016
*with two prior training days and post trip reflection day
Professor Deirdre Keenan and Ojibwe elder and artist, Ed Jikiwe Gray
Calumet, Michigan – The Keweenaw Peninsula
A journey into Ojibwe culture through gikinawaabi, teachings, and experiences
Tool and Copper bowl making
Keweenaw National Park Museum
Beaches
Clay smoke firing
Earthworks
Gratiot and Bucky
Talking Sticks
Drum Circles and other traditional Anishinaabe ceremonies

Description: Students will be introduced to Anishinaabeg culture and ways of learning through activities, focused on making traditional Anishinaabe art (copper bowls, clay work, talking sticks, tools, dream catchers, and other items), as well as through drumming and talking circles, nature field work, gathering, and communal cooking and feasting. Students need no prior art experience.

This course is not recommended for picky eaters as the communal cooking and feasting is central to course objectives. Dinners will be hearty vegetarian.

Due to the season and nature of the activities, significant time will be spent in the Calumet Art Center, which may be difficult for those who have asthma, due to clay and fabric dust, and working closely with natural materials (sticks, drift wood, stone, etc.).

Based on the focus of this course—the Lifeway of the Anishinaabeg—there is a strict policy prohibiting the use of personal technology throughout the day (only allowed in the hotel). Violation of this policy will be treated seriously and result in a significantly lowered course grade, possible course failure for repeated events, and possible course termination and return to Carroll at the students' expense.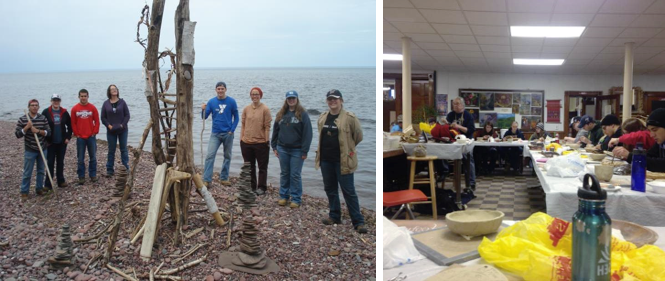 ---
Instructor: Deirdre Keenan
Term: Summer I
Location: Calumet, Michigan
MANDATORY Course Meeting Times: Course Dates April 13th and 25th from 4:00-7:00PM and a post reflection session
Tentative Travel Dates: May 15th- May 21st 2017
Maximum Class Size: 20
Total Cost: $995.00

Course Itinerary:
Michigan Itinerary.doc
NOTE: Summer Tuition does apply. Fees for credits can be found in the Undergraduate Course Catalog on the Academic portion of the Carroll University Website.
---
Students requesting accommodations for their CCE should contact The Office for Students with Disabilities at the Walter Young Center by calling 262-524-7335 to set up an appointment with Marty Bledsoe.
There are currently no active application cycles for this program.